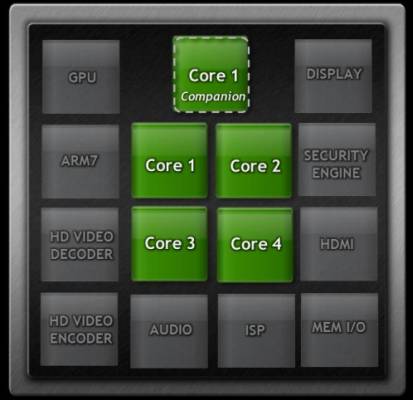 Prior to this week,
Nvidia
touted its latest Tegra 3 mobile processor codenamed 'Kal-El' as the latest quad-core powerhouse to launch the world of smartphones and tablets into new dimensions. However, Nvidia
released a document addressing their new technology
as "a multi-core CPU architecture for low power and high performance." This means four cores for central processing and a dedicated fifth core that takes over during periods of low battery consumption. Hopefully that was not too much technobabble as further description of Kal-El's specs suggests a revolution in increased processing speeds versus power-consumption issues
Early demos of Kal-El
previewed what you would expect from the renowned chipset manufacturer: graphics processing rivaling that of today's gaming-centric devices and multi-core processing speeds for seamless flow between apps. Nvidia's super-chip delivers a solution to the 'kryptonite' that is cell phone batteries by making use of a fifth, supplementary core that functions during a device's standby mode. The 'companion' core, as Nvidia calls it, is the answer to drained mobile device batteries requiring less thought about
cell phone chargers
and USB cables.
Nvidia's blog
elaborated on the power-saving capabilities for the powerhouse of a processor. "During less power-hungry tasks like web reading, music playback and video playback, Kal-El completely powers down its four performance-tuned cores and instead uses its fifth companion core. For higher performance tasks, Kal-El disables its companion core and turns on its four performance cores, one at a time, as the work load increases." Nvidia adds that Kal-El's technology is compatible with all operating systems, negating the need to rewrite any coding to make use of the companion core. In a second document entitled "
The Benefits of Quad Core CPUs in Mobile Devices
," Nvidia looks to improve upon existing mobile dual-core processors with the following bullet points:
lower power consumption, higher performance per watt
faster web page load times
higher performance for demanding applications
faster multitasking
higher quality gaming
As major chipset competitors such as
Qualcomm
move towards quad-core processing on future mobile devices, Nvidia looks towards technologies that address user issues while boasting speed and power worthy of the super-moniker.
Posted by David Yi, Social Media and SEO Assistant at Wireless Emporium